I've just been reeeeeeeeaaaaaaaaaaaaaallllllllllly distracted.
So, since all my art programs decided to be lame and expire, I went a oekakin'.
I SWEAR I AIN'T DEAD.
Current Location:

That one place

Current Mood:

artistic

Current Music:

AAA - That's Right
DID ANYONE NOTICE THAT MY COLOR PICTURE OF KRISTOF AND LAZARUS GOT BUHLEETED FROM PHOTOBUCKET FOR VIOLATING ITS TERMS OF SERVICE. BUT THE BLACK AND WHITE ONE IS STILL ONLINE? WTF, MATE?
Current Location:

on the floor

Current Mood:

amused

Current Music:

Wild San'nin Musume - Cutie Honey the Live Theme
THE BEGINNING.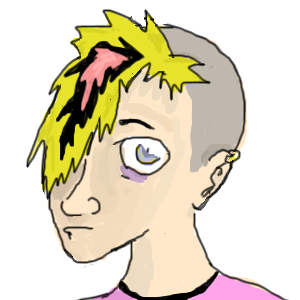 UH HEY LOOK IT'S GENDERBENT HQB LET'S GO MOLEST HIM!:D
uh. yeaaaah. 'bout time i did it.
anyway. for some reason, i get the impression that - while normal me has muchlove for girls and boobies (preferrably together in one convenient little package) - genderbent!me would be a total gayboy.
well. either that, or a straight boy whose best friends are all lesbian girls.
LIKE A REVERSE FAGHAG.
yeah, that sounds about right.
and he'd dress all 'PUNKREBELLION, 'FOO ' but be a total control/approval freak and constantly whine about "UM HAI DA RULES SAY U KANT DO THAT.".
...
...it isn't a good sign when you start obsessively making up personalities/characters for what's basically an alternate version of yourself, is it?
DAMN YOU WYNNE
DAMN YOU ALL TO HELL
EVERY LAST ONE OF YOU
AND YOUR LOVED ONES
AND YOUR NEIGHBOURS
AND YOUR NEIGHBOURS' YAPPY, ANNOYING LITTLE DOGS
what's kurt doing, you ask? why, he's reading up on his fine nazi literature.
and. uh. 'one fish, two fish'.
...
well, you gotta love a man who knows how to appreciate the classics.
manfred = seme.
kurt = seme.
thus; manfred + kurt is equivalent to seme + seme.
and seme + seme = large quantities of time spent screaming at each other.
manfred: "ALRIGHT, I GET TO BE ON TOP THIS TIME."
kurt: "UH, NO."
manfred: "WUT? NO FAIR! MY TURN; YOU GOT TO /LAST/ TIME."
kurt: "YEAH, BUT I PUT UP WITH YOU KEEPING THAT CREEPY STUFFED BUNNY OF YOURS /RIGHT THERE ON THE BED WITH US/. EVERY. SINGLE. TIME."
manfred: "...he doesn't like you talking about him that way, you know."
kurt: "OH FOR THE LOVE OF -bleeped for the well-being of america's children-"
...
...i think i have problems.
manfred is crushed.
somebody gave him a two on his customary post-gay-lovemaking evaluation.
the BASTARD.
hmm. seems like manfred isn't much noticed or liked around here. WHINE LOUDER, GODDAMNIT BOY.
c'mon, people. he's willing to do sexual favours in return for... uh. sex.
poor kyle. he can't even enjoy his watermelon flavour slash-fanfiction-certified popsicle without stumbling across something that further taints his innocent little mind.
uh. yup. inspired by
http://oekaki.avatarspirit.net/practice/pictures/OP_21613.png
. manfred apparently ran off when his turn came. how [i]rude[/i].
and i just noticed that everybody here seems to seriously enjoy abusing their own genderbents. can you say 'masochism', perchance?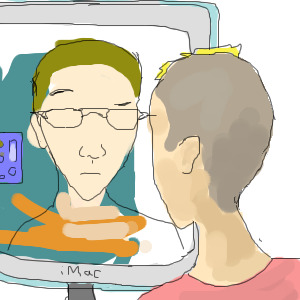 manfred spends time on some fandom oekaki site, drawing a creepy genderbent version of himself and making her interact with others' genderbents.
pfft, what a dork, eh guys?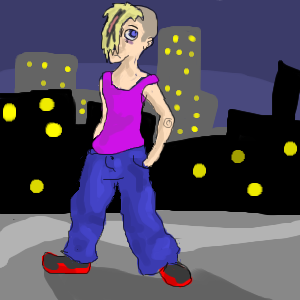 so uh. i realized that i'd never done a full-body pic of manfred on here.
aaaaand i set out to change that.
EXCITEMENT.
offscreen:
kristof's secretary: alright, i can pen manfred into kristof's schedule for the second of april, 2012, if you like.
me: is that seriously the EARLIEST possible?!?!
secretary: ....well. the republican politician kristof's seeing on this coming seventeenth /did/ request a threesome.... would manfred be interested?
me: HELL YES.
kristof's schedule is much too crammed for unplanned sexings(srsly; just about everybody who's genderbent themselves here as drawn themselves with 'im). and manfred is quite frankly scared out of his wits of kristof. so /i/ have to make the appointment.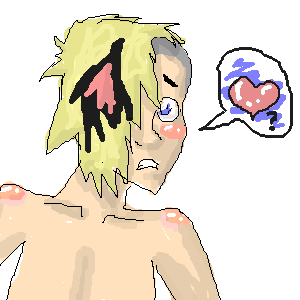 nobody draws their genderbents any more. D: the lack of hot teenage boy-on-boy makes both baby jesus cry. manfred, too, but he cries a lot anyway, so it doesn't count.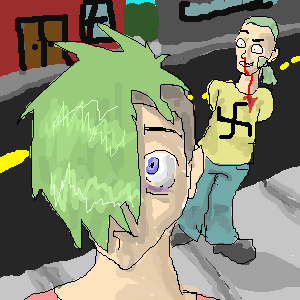 manfred stole some of kurt's hair dye.
kurt got pissed and came to kick some butt.
upon seeing how manfred looked with it, though, he changed his mind. now the only ass-kicking shall take place IN BED.
green hair fetish ftw.
---
WELL, THAT'S ALL, FOLKS.
awright. i wanna make a big post of alllll my genderbent doodles, sooooo....





Yeah, It's like kinda saucy....
Yeah. I finished the pictures I inked earlier. I'm still working on the digital copies, but I got bored and decided to bust out the Prismacolor pencils and color.
Current Location:

In a bunny suit

Current Mood:

accomplished

Current Music:

Jonas Brothers - Kids of the Future


...

i have many fetishes. necrophilia /isn't/ one of them.
DON'T YOU PEOPLE DIE ON ME. DON'T YOU /DARE/.
Current Location:

in front of tha Boob Tube

Current Mood:

*Fans self cause of teh hotnes

Current Music:

HIGH SCHOOL MUSICAL 2, FOOLS.
NAME: Manfred
AGE: 18
HEIGHT: 5'3 (he's a shortyyyyy)
WEIGHT: 138 pounds.
HAIR: long bangs; blonde on the outside. then black. then pink. the rest shaved. it's gotta be a bitch to maintain.
EYES: blue.
PIERCINGS: cheap gold ring in upper left ear. has considered getting a lip ring, but too chicken to for several reasons (among them; having it get caught on things during certain... activities)
TATTOOS: pffft he's way too much of an authority freak to get something that reckless.
SEME OR UKE: seme.
SIGNIFICANT OTHER: huge mancrush on kurt, but no actual significant other.
LIKES: approval, his stuffed bunny (which has a habit of turning up in really, really freaky places at the worst of times), mantaining DA RULES (tm), nuns, guys in turtlenecks.
DISLIKES: getting bad marks, loud music blasting from stereos ghetto-style, microwaves, waking up with his hair in his mouth, when people are disappointed in him, paper cuts, and homeless people (they make him fidgety and uncomfortable).
OTHER: his looks and attire may be reminiscient of typical teen rebellion, personality-wise, he's the opposite. if there's a preset routine or schedule to something, he'll pretty much explode if you try to stray from it. this probably relates at least partially to his blaring insecurities and self-consciousness.


:3 LET'S POST SOME BIO!


... Anyone see my spoon?
Current Music:

The Queen And The Soldier - Suzanne Vega